I've just returned and calmed down from a fantastic Canada Day celebration in London. It's funny how patriotic one can feel when they're displaced from their country, only to be gathered all together in one little square in a big city for one day to celebrate their home country's birthday.
I don't think I've ever been happier to sport a tacky and glittery headband, complete with 2 bobbing Canada Day flags sticking out like martian ears. I ate poutine like it was the best meal on earth…I guess it seemed so at the time, though reflecting back I can safely say there wasn't nearly enough gravy as I would've preferred and the cheese bits intermingled with my fries were definitely NOT cheese curds. But that's ok…I enjoyed my poutine nonetheless and even managed to finish the whole box (served in standard gigantic English sizes) even after I had eaten a pancake breakfast no less than 40 minutes before. Granted, the pancakes were about dollar-sized and the 40 minute wait to gobble it all down in 5 seconds  likely wasn't worth it…but hey, the tent was sponsored by Alberta and there were Mounties in the pancake tent so…whatever!
We met up with other fellow Canadians and by noon I had my first Molson Canadian can in hand, my first of many that day. I originally thought I could only tolerate beer on Oktoberfest and St. Paddy's Day but apparently my body also allows me to have it on Canada Day too! The concept of paying £4.70 (=$7.50) for a 330ml can was a little sickening but that depressing fact was soon numbed by the happy beer feeling that quickly settled in.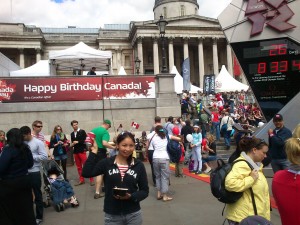 The Eurocup 2012 finals happened to coincide with my country's 145th birthday and though it was hard to decide whether to watch Spain vs. Italy battle the soccer field (fine, fine…football field) or watch one of Canada's amazing bands (I think Hedley was lined up to perform the same time the finals were to start) I decided to be nice and loyal to M and accompany him to the nearest pub. To cheer for Spain 😉 I'd prefer if you didn't think of this as a relationship betrayal and perhaps just a way of keeping things playful and lively instead! Anyway, it's pretty much the norm for me to win any kind of 'battle' we go through so it was no surprise that I (i.e. Spain) kicked his (i.e. Italy) ass 4-0. I hadn't seen him so depressed since the day I left for Canada…
We made our way back to Trafalgar Square and my excitement levels continued to increase on top of the current elation of my Spanish win as I heard music of years past gradually fill my eardrums. Music stemming back to Grade 8 throughout highschool brought back great memories and quicker than you could say "poutine" I found myself rocking it out to Our Lady Peace, singing the lyrics to "Superman's Dead", "Innocent", and "4AM" at the top of my lungs. Well, actually, I didn't really know all the lyrics so it was just really me screaming at the top of my lungs doing some makeshift lip-syncing.
After a long day in London we prepared prepared ourselves for the final leg of the day…a 2.5 hr trip back to Bath. I encountered my last mini-surprise of the day on the tube back to Paddington when a girl who noticed my amazing UW windbreaker asked if I went there. We soon discovered we were both from Waterloo and lived basically across the street from me. Well, she made it quite clear she was from Beechwood. Upper Beechwood. I haughtily told her that I was from the Westvale neighbourhood and we then proceeded to have a showcase showdown. OK, that didn't happen in real life, but it happened in my head. I asked what highschool she had gone to and when she said "Waterloo Collegiate" I responded back saying I'd never heard of it and that I went to WCI. Only when the words came out did I realize how stupid I was and that there was no going back (for the non-Waterlooers reading this Waterloo Collegiate and WCI are one in the same). I'd like to say I pulled a "Marianne". Maybe I was over-exhausted by the day's activities but the rosiness of my cheeks tells me that it was more likely that the day's alcohol consumption must've lowered my mental capacity somewhat.
I arrived back late and knackered but after spending 3 weeks in Canada, having Canada celebrations in London was a nice way to get back to the English life