Hello, audience! It's been nearly two weeks since I've returned from a magnificent and unforgettable trip to the Swiss/French/Italian Alps. While I would've loved nothing more than to begin writing about my snow-infused getaway the moment I stepped back on British mud, I had to let my entire body, fingers included, recover fully to ensure an optimal quality of writing.
I'm almost reaching my 4th year being abroad but I'm still in awe of how easy it is to travel around and how there's so much diversity in what you can do within a 2 hour flight in any direction. I hope I never take these experiences for granted and if there's one thing I can thank my parents for, it's for instilling a sense of exploration, risk, and adventure in me.
Onto more important matters – how SkiBASH was born.
SkiBASH was discovered by friend A.
"The ultimate ski event…for young professionals between 21-39 (ya man, I've still got another decade of being young!)! An exhilarating experience packed full of great skiing, parties, group meals, fancy dress days, BBQ's and tasteful après-ski. We create the group ski holiday you are looking for."
The event looked amazing, the activities looked amazing, the location looked amazing…but you know what didn't look so amazing? The price. At over £1000 a pop, I knew SkiBASH wasn't going to happen. At least…SkiBASH with THEM. The wheels started to turn and we thought "heck, we're young and fun! We'll make our own SkiBASH!" And that, ladies and gentlemen, was how SkiBASH (our version) was born.
Trip preparations were quite flighty. Since travelling in Europe's so simple and convenient we bought our plane tickets on a whim ("ooh cheap flights to Switzerland, why not!? We'll figure out what to do when we get there!") after being invited by friends. Return tickets to Basel, Switzerland in hand we only finalized the details of the trip one week prior to departure.
I get the feeling Brits are quite well organized. I get this sense because every time I was asked by colleagues if plans were finalized and I answered with an impassive "nah, not yet" they'd stare at me with shock and incredulation (ya I made up that word…it should be incredulity but I think incredulation sounds much more appropriate). "Hazel! Your trip is coming up in TWO months!!! How do you not know where you're going!?!" Dude…calm down…
Our sole criterion was to find a place where we could go hit the slopes. With our base point being Basel, our options were to rent a car and a) stay in Switzerland, or go to b) Austria c) France d) Italy. So many options! Or so we thought…travel planning proved to be more arduous than anticipated, as prices in Switzerland were shockingly high (just switch to Euros already, dammit!) and the places in Austria weren't as close as we thought they were. We all love a good road trip but an 8 hr drive there and back for only two days of skiing just couldn't be justified. So you're probably on the edge of your seat, white-knuckled, thinking "OMG the suspense is killing me!!! Where did you go!?!" (I'm good at reading minds, huh?) Well, with one of the group members having an aversion to Italy (bad experience, we're working on her issues) the only country left was France. I'd heard rave reviews about Chamonix and since it was the first place ever to host the winter Olympics (Jan 25, 1924 – little history fact for ya) I thought "this place would be perfectly suited to my Olympic-level skiing capabilities.
Chamonix's about a 3 hr drive from Basel airport. By Canadian standards that's easy-peasy. I mean, 3 hrs is just a normal commute to work, really. But try telling a Brit you're going to drive 3 hrs and they just look at you with incredulation, as though I'm landing in Basel but travelling slightly further to ski…in Nepal. Friend O got it right by telling his colleagues he was just flying into Switzerland and omitting the Basel part, letting people assume we were flying into Geneva, another airport in Switzerland that's ONLY a 1.5 hr drive away. Apparently that's acceptable. 3 hrs is not.
A couple AirBnB messages later and BOOM we got ourselves a sweet booking at Studio Freeride. Ya, studio. Two couples. Things were pretty cozy. Continuing on…
Being the ambitious folk that we are, we purchased the Mont Blanc unlimited ski pass, which gave us the freedom of exploring the ski hills of 3 countries. Not that we were planning to, but it was nice to know that we could. With 762 km of runs, we'd be lucky to cover even 1/15 of what was available.
Itinerary:
Thursday Feb 7, 2013
1pm- Depart for Gatwick Airport
3:45pm- Arrive at Gatwick Airport
I have this thing about bringing water bottles to the airport with me and making sure I'm well hydrated prior to boarding a plane. I think it's ridiculous how much low cost airlines charge for something that should really be free so I make a point to bring an empty water bottle (usually it's my beloved SIGG) and fill up at the water fountain once we've passed security.
I may have gone a little OTT with the water purchase this time around. I had a single bottle of water with me but I thought M would be thirsty so I went to Poundland to pick up a bottle for him. They only had 750mL bottles. "That's alright", I thought. "He likes to drink." But then I got to the checkout and the guy told me it was 2 for 1. Ah, bugger, you found my weakness. A good deal. I picked up another bottle. So I had two 750mL bottles and one 500mL bottle of water. We arrived at the airport and all 3 bottles were still full. M gave me the "You need to throw out your bottles" eye. I gave him the "ARE YOU F'N KIDDING!? I'M NOT JUST GOING TO POUR OUT PRECIOUS RESOURCES!" eye. It was quite the eye. Guess who won the eye fight? That's right, the person who wins every fight. Two litres of H2O later, our water-logged bladders were ready to pass through security.
5:45pm- Depart Gatwick Airport
I've been wanting a "travel buddy" for quite some time now. A toy or mascot of sorts to accompany me on my travels and to take fun pictures of/with. At first I was on the lookout for Domo…apparently Domo's a hot commodity and I couldn't justify the $65 price tag that came with the territory. A Canadian Hello Kitty was next on my list but she doesn't appear to exist!!! If anyone happens to come across a Hello Kitty with a Canadian flag or carries any kind of Canadian representation please let me know!
Next candidate in line – Gulliver. Gulliver has been on my radar ever since I found out about the EasyJet competition. Gulliver's a stuffed bear by EasyJet and if you submit travel pictures featuring Gulliver and send it in to EasyJet you get entered in for a draw to win two plane tickets! Considering how much I travel I figure it's inevitable I'll win a pair of tickets one day 😀
8:20pm- Arrive Basel-Mulhouse-Freiburg Airport
12:30am- Arrive at Studio Freeride
Friday Feb 8, 2013
8am- WAKKKEEE UP, CHAMONIX!!!
9am- First ones at Skimium to pick up our equipment
10am- We be hittin' da slopes, SON!
We had 6.5 hrs of pure, exhilarating fun. Fresh powder in sight, I was anxious to get my ski on and it wasn't until I went down the first slope that I realized how much of a tune-up I required. As much as I tried to prevent the notorious beginners' V stance from forming my scared legs formed a mind of its own and refused to listen to my mind screaming 'yo girl, BE COOL!!!'. The stance remained put and my vision of swishing down the slopes like I did in my dreams the night before vaporized before my very eyes. Disappointing, Hazel. So disappointing.
By dusk all four of us were ready to call it quits and head to an anticipated part of SkiBASH – the après-ski. Après-ski is an actual term and refers to going out, having drinks, socializing, dancing, and recapping the day's ski events. Hills usually close around 4:30-5pm (this isn't Chicopee…there are no lights to illuminate the slopes so once the sun's gone, ski time is over) and après-ski promptly starts at 4:31pm. I wasn't aware that proper protocol was to go DIRECTLY to the bar with ski equipment in hand. Against A's wishes, we went back to our studio to freshen up. Freshening up lost us 1.5 hours and by the time we got to the bars they were all completely packed. A wasn't a happy camper…er…SkiBASHer. We did manage to find a bar but at that point people were starting to file out and head to dinner. Dang it, we just couldn't seem to get anything right! But a few pitchers of beer and gin and tonics later at Elevation 1904 we stopped caring what was the 'proper' thing to do and just rolled with it.
After we satisfied ourselves with drinks we moved on to more important matters- dinner. I'm upset I can't remember the name of the restaurant we went to. Because it was at this restaurant that I had one of the most satisfying French Onion soups of my life. If I was a sensible person I would've ended my meal right there, since I was fully satisfied after devouring the hearty soup. However, a sensible person I am not, so I continued to eat.
Since we were in France, and not just France, but in the Alps, I wanted to have some goooood 'ol mountain food. That means:
Raclette- A Swiss dish based on heating cheese and scraping off (racler comes from the French word meaning "to scrape") the melted part, eaten with potatoes and dried meats.
Tartiflette- A French dish from the Haute Savoie region, comprised of potatoes, roblochon cheese, lardons (like ham and bacon chunks…but amazing. I have two packs of lardons a week.), onions. Think of scalloped potatoes on steroids.
Fondue- Y'all know what this is, right!? I'll tell you anyway. A Swiss, French, and Italian dish of melted cheese served in a communal pot over a portable stove and eaten by dipping bread into the cheese.
One thing O forewarned us about was the effect of 'La Boule.'
La boule- A big massive ball of cheese forming in your stomach as a result of overconsumption of cheese and cold drinks mixed together. The result? Have you ever ejected a bowling ball out of your ass? Sorry to paint such a grim picture in your mind, but 'la boule' just can't be described gently.
One would think that with all the cheese and potatoes we consumed we wouldn't have room for anything else.
Please, we just arrived in France from England. We did not have any plans to stop eating. Bring on the dessert platter. Three crème brûlées? Don't mind if I do. It was hard to pick a favourite between the pistachio, berry compote, and honey flavoured crème brûlées, but I think the pistachio one was slightly more favoured.
Here's where I'll admit that I was defeated. I don't know if it was the gin, the 10lbs of potato and cheese I just inhaled or perhaps a mixture of the two and the startings of la boule, but I could barely stand. I just wanted to get back to the studio as quickly as possible and curl up into fetal position. I slept like a baby within two seconds of hitting the mattress.
Sat February 9, 2013
8:30am – WAAKKKEEE UP, CHAMONIX!!!
A breakfast fit for a king prevented us from leaving the studio when we went to, but you just don't rush a petit déjeuner! Pain au chocolat, baguettes, marmalade, brie, chausson aux pommes…yummm carbohydrates are this girl's best friend.
9:30am – depart for Aiguille du Midi
Aiguille du Midi is a mountain in the Chamonix Mont Blanc region and upon ascending 3842m it's here where you can experience spectacular panoramic views of the French and Italian Alps. There's an option to go down the Vallée Blanche, which is an off-piste (off-track) ski track down the largest glacial domain in the Alps. Had we had more time to organize it (it's highly recommended you go with a guide) it would've definitely been something to stick on our to-do list. That's alright though, it's motivation to begin the planning phases of….SkiBASH 2.0!
12pm – depart for Courmayeur, Italy
I really wanted to make use of our multi-country lift passes so even though we had a happy-go-lucky time in France we decided to shake things up a little and hit the Alps…Italiano style. One 25-minute drive later M was pretty ecstatic to be back in his motherland. I could see a wave of relaxation wash over him as familiarity surrounded him: hands waving around, glossy puffy coats, people decked out in Armani-clad ski outfits, and Mario and Luigi making pizza.
The biggest pro of being on the Italian side was that we got a lot more sun. I think the France side was 10x chillier because the mountain blocked the sun, leaving the warmth solely for the Italians.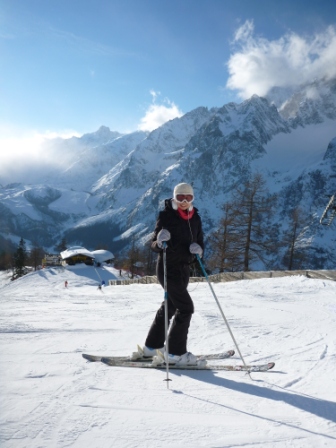 But with every pro there lays a con and the con in this case was a big con indeed. More sun not only meant warmth, it also meant slicker slopes and terrains that resembled slushy ice rinks rather than the powdered hills I'd gotten so accustomed to the day before. I was definitely kept on guard, but didn't venture into any 'red' territory and stuck with the blue hills.
The fact that it was a Saturday meant that the hills were packed with ski schools, meaning children under 10 represented 80% of the skiers out that day. I'd like to complain that the little buggers got in my way, but seeing as they were basically all Olympians-in-training that would just be a big fat lie.
We ended off our Italian escapade by hitting up the best pizza joint in Courmayeur. Well, the only one that was open at 5pm anyway. I think A's esteem in Italy went up a few notches after watching her down her Peroni and scarf down her pizza. But as someone who's not the BIGGEST fan of pizza (gimme sushi, pho, galbi, congee anyday!) I must admit that my spicy sausage and porcini mushroom pizza was amazeBALLS!
We left Italy with our stomachs full, ready to get our après-ski on. We decided we were gonna get it right this time, and right we did!!! Thank you, beer. Thank you, gin and tonics. Thank you, shots. Thank you, old DJ rockin' out the Jamaican tunes. Thank you, Polish 30-year old guy – you were the focus of our entertainment that night. Bet you didn't know. Thank you, Chamonix, for making it acceptable (and the norm) to dance the night away wearing snowpants and Sorels!
*Just a quick FYI – I bought my Sorels (snowboots, if you will) the day we left. The BEST spontaneous purchase of my life and at 50% off, quite a steal as well! M made fun of me because they look like 'duck shoes' and wondered why on earth I'd ever want such funny-looking boots. Little did he know the joke would be on him…my feet were toasty warm in boots that keep you insulated at up to -32 degrees Celsius and I'm pretty sure 80% of the Italians were wearing them…he's not quite with the Italian high fashion society!
Sunday February 10, 2013 – Departure day ALREADY??
Departure day was bittersweet. As nice as it was knowing we soon wouldn't need to turn up the music so people could go to the bathroom in peace without worrying about others 'hearing things' (like I said, one studio, two couples, very cozy quarters) l wasn't ready to abandon my skibunny lifestyle…something reminiscent of my Jasper days. Yes, we were only there two days but I adapt very quickly!
11am – Au revoir, Chamonix…a plus! Nous allons se revoir…j'espère.
French snacks in hand, our drive back to the airport took 7 hrs. Why so long, you ask? Just because, you know, we decided to make a pit stop…in Germany. M had never been before and seeing we took O to Italy for his first time we thought we'd do M the same courtesy.
We had the GPS take us to the nearest German city by the airport, which happened to be the lovely town of Lörrach. We drove into what inherently looked like a deserted town and thought we'd made a huge mistake choosing that as our destination, but our interested escalated slightly when we saw a couple of oddballs walking down the street. They were kind of dressed like hick-ish roughnecks: leather pants, hat, and jackets with strips of leather flowing behind them. Weird. The car locks were enabled. Then we saw others dressed like clowns. And others dressed like animals. We thought "what the hell is going on???" We parked the car and followed the costumed folk and were amazed by what unfolded before our eyes.
Confetti COVERED the streets. I kid you not, there was at least one inch of confetti covering the main streets and square of Lörrach. If only my camera battery hadn't died on me after two days of use (Thanks, Lumix) I'd have pictures as proof, but there was enough confetti so that I could scoop it up with my hands and throw it up like snow…which O did. There were multiple marching bands flowing through the streets and there didn't seem to be any sense of order whatsoever. The group of us represented about 10% of the town's population NOT dressed up in costume and I never thought I'd feel so out of place wearing normal clothing.
I think we lucked out HUGE and randomly came to town when it just so happened to be Karneval/Fasching.
*History lesson
Carnival, just in case you've never heard of it, is a festive season which occurs immediately before Lent. It often involves public celebrations, parades, street parties, masquerades, marking an overturning of daily life. It's been traditionally held in areas with a large Catholic population. The first time I'd ever experienced Carnival was when I lived in Nice, France, where they hold a massive celebration – the event still remains as one of my all-time favourite memories. It's just one week of pure fun and celebration. I was surprised I'd never heard of it back in Canada but quick research tells me that our equivalent is Caribana. While it should be celebrated in February, due to climatic problems it's held in August instead, when people can parade in typical Caribana costumes more comfortably!
History lesson over*
A trip to Germany wouldn't be complete without Gluhwein (hot wine) and wurst so I went a huntin'. There were wursts everywhere…currywurst, longwurst, bratwurst. I was surrounded by sausages of all sizes…I was in heaven.
This trip was a gastronomic experience indeed, but as much as I keep on saying I wish it was longer I think my waistline's thankful for keeping it short and sweet! Um…I think I'll end things here…thanks for making it to the end 😉