One of the things I love most about my English lifestyle is being surrounded by nature. Lots of it. Luscious, green, beautiful nature. I got to indulge in my environmental fetish last Sunday when M announced he was taking me on a fun outing. He packed a picnic lunch (for those of you who are interested the lunch was composed of a grilled avocado/goat cheese/tomato sandwich and…Cool Ranch Doritos) and off we went to…*drum roll* the Bath Boating Station!
We hired (oh wait…RENTED) a row boat and off we went, rowing down the River Avon. I wouldn't say it was a particularly beautiful day…I had my winter jacket on and in hindsight I should have brought gloves…and a scarf, winter hat, and a thermos of hot chocolate mixed with Bailey's but all in all it was a nice outing ;).
The adventure started off pretty relaxed. We admired the willow trees, people's back gardens, all the animal wildlife. Then we saw a swan.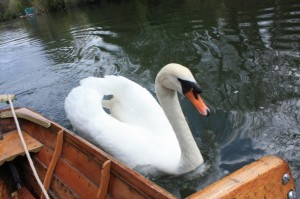 Now when you think of a swan the general picture that comes to mind is a really graceful and pure bird, right? Now I've got a question for you. Where the hell did that connotation come from??? I got really excited when the swan first approached us but that excitement quickly turned into paralyzing FEAR when the swan started to attack our boat. And not just the boat, but the people INSIDE the boat. i.e….ME!!! I don't know what this dude's deal was but it had an appetite for human flesh and it seemed determined to do some successful hunting. M was having all sorts of fun laughing at me until the evil bird turned its attention to him. We rowed away as fast as we could at this point, escaping death, but to this day I still wake up in cold sweats from nightmares of the beast.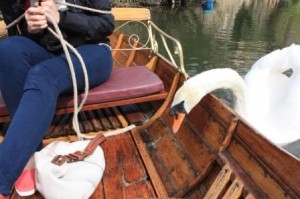 Our end goal was to reach a nice pub at the end of the river where we could indulge in some delicious hot drinks and a yummy afternoon snack.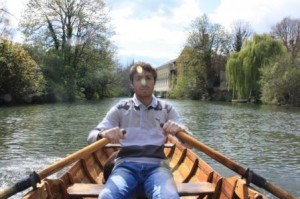 The wind picked up a bit, making it more difficult to row (from what I was told since I was clearly the passenger. Did I touch the oars once? I think not.) and while I wouldn't have had any problems whatsoever in rowing for a bit, I like guys with big muscular arms and I wasn't going to deny the opportunity for M to pump up the muscles a bit. If anything I think I made a sacrifice for him. I endured the bitter cold so he could get some exercise. How great of a gf am I??
I want to try venturing out on a row boat again sometime this summer, decked out in a really pretty sundress with a white lace parasol. How romantically English would that be? Oh…I should mention here that today's activity was to celebrate something. Guess who just celebrated her 2 year anniversary? That's right, yours truly.